Our posters lay out economic concepts pretty well, but you may need a little extra help when it comes to really getting the concepts through to your students. For that, we've created a number of activities and games that are sure to get your students excited and involved in their learning. While they're having so much fun with the games, they might not even realize they're learning.
Economic Concept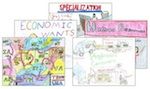 The Economic Concept Notecards are a unique way to share your appreciation of economic literacy. These student-illustrated notecards feature creative images of economic concepts. Each pack of Economic Concept Notecards contains 10 cards (4" x 5.5") - 2 of each concept. Great for any occasion!
Activity Cards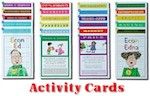 If you're looking for an effective - and motivating - way to reinforce the 22 KidsEcon Posters© economic concepts, then the KidsEcon Posters© Activity Cards are for you! Each deck consists of 88 sturdy economic concept cards (four for each concept) and six special "wild cards" (four Econ Ed cards and two Econ Edna cards).
Economic Songs
Economic Songs provide illustrations and explanations of the concepts set to familiar tunes. We provide the words and the tune. the rest is up to you and your students.
KidsEcon Bingo Game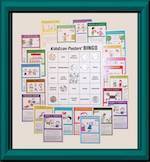 Reinforce poster concepts using the KidsEcon Posters© Bingo Game. Each Bingo Game comes with teacher instructions, 23 colorful poster concept cards, 30 student Bingo cards, 800 markers, and one blank student card that the teacher can use to modify the game

Herschel Puppet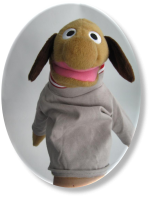 Students will love seeing you use this new 12" hand puppet of Herschel to reinforce the six lessons in the Herschel's World of economics DVD! In fact, why not let the students use the puppet to teach one another?