Sellers from near and far arrive at the market before dawn on Saturday. There are trucks, carts, and donkeys loaded with beautiful rebozos, fiery chile peppers, comfortable huaraches, squawking parrots, fine rugs, flowers, etc. The sellers work all day, hoping to sell all their wares and drive away with empty trucks.
Interested in using this resource in your classroom? Check out the posters that go along with this book: Market, Goods & Services, Producers, Consumers, Supply & Demand, Price.
Comprehension Questions
Why were there so many people at the Saturday market?
People came to buy and sell goods, hoping to make some good deals.
What is a price?
A price is an amount you pay to buy a good or service or the amount you receive when you sell a good or service.
In the story, it does not explain how the prices of goods in the Saturday market were set. In the Saturday market, how do you think people set their prices?
Probably, by haggling between buyer and seller. Many prices are not marked clearly as in our stores.
What were the sellers/producers hoping for during the market day?
They hoped to sell all their goods to buyers at high prices so the sellers could make a profit.
What were the buyers/consumers hoping for during the market day?
Buyers were hoping to buy the goods they wanted at low prices.
Who were some of the sellers/producers and what goods did each sell?
The producers included Miguel, who brought sacks of chile peppers;

Carmen, who had beautiful shawls for sale;

Luis, who reluctantly had his fat and charming pig for sale;

Rosa, with her huaraches;

Pedro, with his fine rugs;

Estela, with her flowers;

Lucia, with her potions;

Juan, with his bread and cookies;

Ana, with her tortillas;

Diego, with his parrots;

and Enrique, with his clay figurines.

How did the producers estimate the number of goods to be brought to the market for sale?
They considered the amount consumers bought during the previous week. For example, Miguel sold ten sacks of chile peppers last week. This week he brought more. Each week, Rosa managed to sell two hundred pairs of huaraches. This week she made another two hundred pairs of huaraches, just as usual.
Carmen sold only two rebozos last week. What was the reason for her poor sales?
There were many other ladies who were supplying rebozos in the market. Carmen worried that one day there would be more rebozo sellers than women to buy the rebozos.
What advice would you give to Carmen?
Answers will vary. Carmen could sell her rebozos at a lower price. This will probably increase the quantity of rebozos she sells. She could try to change the design on her shawl so that her product appears to be different from the other sellers. She may also decide to change her product and start selling something else which may appeal more to her customers.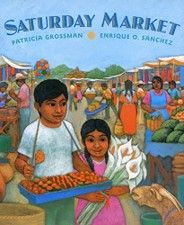 Author: Patricia Grossman & Enrique O. Sanchez
Published: 1994
Reading Level: 4.2
Grade Level: K-3
Accelerated Reader Level/Points: .5
Publisher: Lothrop, Lee & Shepard